Hakros Doom Launcher
A downloadable tool for Windows
Hi everyone
I have created this application for Windows to manage all the classic DOOM games, as well HERETIC and HEXEN and to be able to launch the games using mods, addons and community maps in a comfortable and simple way.
This new version includes its own content explorer that allows you to download new contents easily and free from the official website with a complete selection of the best mods and addons from the DOOM community, and of course you can add your own content downloaded from internet.

Official website
https://www.doomlauncher.com/
REDDIT: https://bit.ly/37ScGCQ
DOOMWORLD: https://bit.ly/2X44tGQ
ZDOOM FORUMS: https://bit.ly/3d2KzBC
Base app, contains just the base configuration (essential mods included)

And of course if you have any suggestion you can send it on forums
https://www.doomlauncher.com/board/
This software requires .NET Framework 4.6.1, you can find it here
https://www.microsoft.com/es-es/download/details.aspx?id=49982
Reveal trailer
Demo trailer
The app is very easy to use and includes a complete help to learn how to use it.

I'll hope you like it.

Greetings and thanks.
Download
Download
Hakros Doom Launcher 1.6.zip
80 MB
Comments
Log in with itch.io to leave a comment.
Yeah, for a birthday stream on Twitch I got a friend to stream using your Launcher. He's been converted.
Hi, sorry but i didn't see the message, can you pass me the link to the video ?
Thanks...and i'm glad you like it ;-)
Man, your launcher keeps getting better and better.
Thank you very much, I'm glad you like it. Although the new update has been delayed due to family issues, I hope it will be ready very soon. Greetings.
Hey king. I'm having issues specifically playing Heretic on your launcher. Every other IWAD works fine. I've tested it on two computers now and I keep getting the error message:

"Access to the path 'C:\Users\19123\Downloads\Hakros Doom Launcher 1.6\data\engines\gzdoom 4.5.0\heretic.wad' is denied."

The game runs fine after that however I think it may lead to corrupted saves. My IWADs are in a folder called "C:\Users\19123\Downloads\Hakros Doom Launcher 1.6\IWADS" so maybe it's trying to run the wrong WAD file? I don't see any options to redirect where the WAD runs from.

Any ideas how to fix this?

Great piece of software you have here by the way. Love the auto-download feature.
Hello, thank you very much for using my app.
I'm glad you like it. :-D
Could you attach a screenshot to see the error?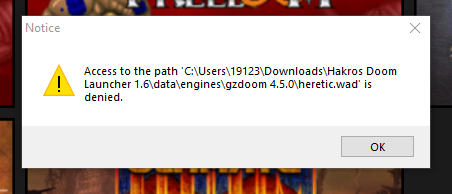 Sorry, didn't know I could include screenshots in comments. Let me know if you need me to try anything else. Thanks!
Don`t worry ;-) !
I'm not sure but it's possible that it could be a problem caused by the antivirus.
Try to move the app folder to another location.
For example: C:\Programs\Hakros Doom Launcher 1.6\

If the problem persists, try delete manually the heretic.wad file from the engine folder.

PS: If you prefer you can just rename it to something like heretic_copy.wad

And try again
Hey, thanks for getting back to me. I moved the entire folder to the root drive and I'm still getting the same issue.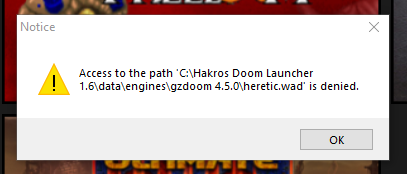 I deleted HERETIC.wad from the "C:\Hakros Doom Launcher 1.6\data\games" folder and from the "C:\Hakros Doom Launcher 1.6\data\engines\gzdoom 4.5.0" folder (where it gets copied over from the games folder). Is the WAD file actually supposed to run from the gzdoom folder? None of the other IWADs make a copy in any of the engine folders or give me an error. Sorry to keep bothering you with this. It's just weird and I wanted to figure out why it just happens with Heretic.
You will need to keep the copy of the file on "C:\Hakros Doom Launcher 1.6\data\games\heretic\" to use it with the app anyway.
All iwad files are copied to engine folder each time but normally it works fine, it is estrange that only that file fails.
At the moment I have no solution I will try to see, if I can reproduce the error in some way.
Greetings, and sorry for the inconvenience.
this is a very cool app that i will use very often, i'd give 5 stars if I could
Greetings and salutations,

Thank you for creating such a lovely software. As I really love it, I want to see it getting better and better so I have some suggestions.

Is there a way to download all the content available inside "Download new contents..." at once ?

Currently I have to download them one by one and there is that annoying pop up window that is set to be on top all the time.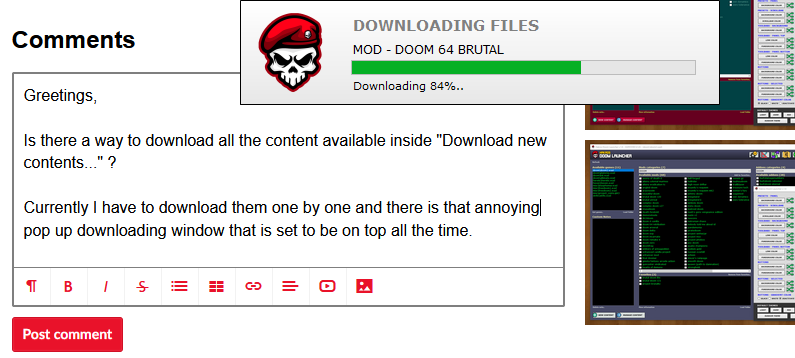 You probably did that to avoid problems with people trying to start games that are not yet downloaded and it seems alright in the scope of the program, but imagine if you try to do something else while waiting. Example with the picture above and me trying to post a comment here. :D

That window is also not movable, so this is defensively something that should be fixed.

And as for the "download all at once" feature - a tick box on the left (for example) on each row will solve that and it's not really hard to implement either. Or on a second thought - if we can select more than 1 rows using "Control (Hold) + Click" or all of them using "Control + A" - that would be even better.

Thank you

Hi, thanks so much for use my app.
I'm glad you like it.
Yes the problem with the download popup it's already solved at next version. (that i'll hope it will be ready soon).
The option of download multiple files at once, I'll take note of it as well.
is there a way to fix consolidated wolfenstein 3d main menu? all teh words are mixed up together?
Hi, first of all, thank you very much for using the program.
It must be a problem of resolution due the tests that I did all works correctly.
In any case, keep in mind that it can be a problem with the mod itself.
i see. so it can be ethier.
cause i have 1920x1080 monitor. but could be my monitor is becoming outdated cause it is old now.
i am getting a new one.
so i can add afadoomer's mod or is there a fix for this mod?
is the mod still being updated?
am i allowed to updated the zbloody hell mod to the new version?
Yes of course you can download any mod, addon or map that you want and update it.
My application allows you to launch mods, addons and maps easily. And through the content explorer you can access hundreds of elements easily.
But all these contents are not developed by me, each mod, addon and map belongs to different developers.
Check links section to access the most useful community's websites for get any update or new content.
how do you create a preset for a mod?
If you want to create your own presets it is very simple after having made a selection of mods, addons and/or maps, you just need to access to selected files panel and use the button in the lower right corner to save the selection as a preset.
The preset configuration window will be displayed, where you can add a title/name and select the type of configuration (category), you can also modify the selection made and add a custom image or select one by default.
As configuration type or category you can write any value and this will create an automatic filter in the presets panel.

You have all this information on help panel

Use F1 or last right button on main toolbar to access the help panel.
man you are a legend, i was wanting to do basically exactly this for ages, good job! linux version would be nice tho